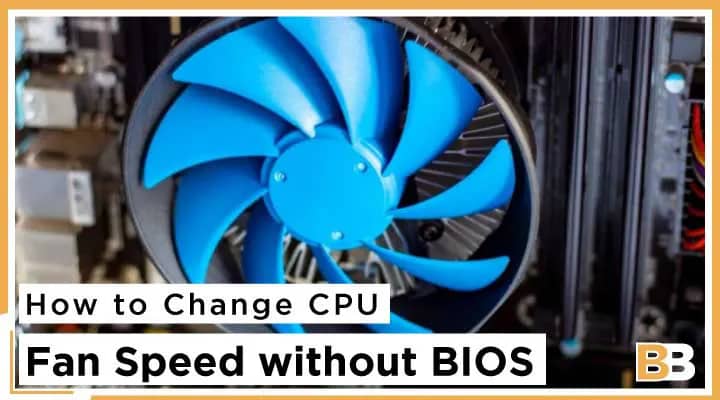 A CPU fan is one of the essential components in ensuring that your computer runs smoothly. The ability to regulate the CPU fan will aid in keeping your system cool and silent. When playing games or utilizing demanding applications, you may find that your PC overheats or becomes excessively.
By changing the fan speed on your computer, you can guarantee that it runs smoothly. Most users prefer to alter the fan speed of their CPU in BIOS. It is the most commonly suggested approach, although it does not always work. These solutions could work for you if you're having trouble slowing down or boosting CPU fan speed. 
Some Methods How to Change CPU Fan Speed without BIOS
The following steps will show you how to change the CPU fan speed without BIOS.
Make use of software that allows you to control your fans.
Even if you can manually adjust your computer fan speeds, it is preferable to choose an automated alternative. In this scenario, you'll need to utilize fan-control software. An automated fan controller program will keep track of CPU temperatures and, if necessary, alter the fan speed on your PC.
When the CPU becomes too hot, a PC fan controller program will silently raise the fan speed and reduce it when it returns to normal. You can regulate fan speeds using several different programs. Choosing the proper one, on the other hand, should be your first focus. In addition, it would be beneficial to check to see if the program you select is compatible with all operating systems, including Windows 10.
SpeedFan Software
It is one of the essential software to change the CPU speed without BIOS. If your PC's BIOS doesn't enable you to switch fan speeds, you can use SpeedFan instead. It's one of the free programs that let you manage your CPU fans in greater detail. SpeedFan has been around for a long time and is still the most popular fan control program. SpeedFan, despite its popularity, is a little more advanced for novices.
If you are not a seasoned user, it may take some time to get the hang of it. If you make a mistake while using this program, it may cause harm to your hardware. Also, SpeedFan isn't compatible with every computer. Double-check that it supports your machine's chipset. 
Here are some of the steps you should take to use SpeedFan to regulate your fan speed.
a. Download and Install SpeedFan 
To use SpeedFan, go to the official website and download the most recent version.
Once the download is complete, please install the program as usual and wait for it to begin.
Allow the software to scan your computer and display all relevant information in the main window.
The primary window displays the fan RPMs, as well as temperatures for your CPU, motherboard chipset, graphics card, hard disc, and other components.
Make sure you familiarize yourself with the various labels to know what they symbolize or stand for. If you're not sure about the settings, don't mess with them. 
b. Play with Some Fan Controls
SpeedFan is a little challenging to use. Fortunately, you can select "Automatic Fan Speed" to have the program automatically regulate your system.
This option may not always give satisfactory results, which is why you should experiment with different fan settings.
To begin, pick the advanced tab after clicking the Configure option. Next, click the "Chip" dropdown menu to select your motherboard chipset.
After that, make sure all of the PWM Mode choices (PWM 1 mode, PWM 2 mode, and PWM 3 mode) are set to "MANUAL."
Would you please make sure the Remember it the box is checked and click the OK button?
c. Set Up Your Automatic Fan Control
After selecting the Configure button, go to the "speeds" page to specify the minimum and maximum RPM for your fans.
Once you've got that figured out, go to the Fan Control tab and create an optimum temperature curve for your CPU fan.
This phase will assist you in determining whether or not the adjustments you've made have had any effect. You may run any demanding program to see how well these modifications work.
Make careful to save all of your changes; otherwise, you'll have to do it all over again every time you restart your computer.
Finally, go to the "Temperatures" section to control when your CPU fan speeds up or slows down, depending on how hot it becomes.
Make sure you choose the sensor that will regulate your CPU fan. When you look at this sensor, you'll see two options at the bottom of the display.
Set the "Desired" and "Warning" temperatures with the arrow buttons now. When you're finished, click OK.
In SpeedFan, this is how you alter the Fan speed. Keep in mind that this program may not be compatible with all PCs. If SpeedFan does not work on your machine, you can try the next option.
Use Some Other Software to Change The CPU Speed Without BIOS
You can also try some other software to change the Fan Speed if you are not working with SpeedFan. Below is enlist some other software to change the Fan Speed without BIOS.
Open Hardware Monitor Softwares
Another excellent software option for controlling the speed of fans in Windows 10 is Fan Control. This program is compatible with the newest versions of monitoring hardware chips.
On the desktop system, you can customize them. It investigates the CPU temperature and cold temperature of AMD and Intel processor sensors.
1. ZOTAC FireStorm Software
This program is highly user-friendly and helpful in increasing the CPU fan speed without using BIOS in a computer. It takes advantage of a graphic card modification to regulate the clock rates and VDC values. The current fan speed and temperature may be seen right away. It is compatible with Windows 7/8/10.
2. Argus Monitor Software
This light application works in the background and changes and controls CPU fan speed without BIOS and monitoring challenging disc health. In addition, it has a CPU NGP temperature display. Windows 7/8 and 10 are supported. For the first 30 days, the software is entirely free. After that, it monitors and records the HDD temperature as well as the monitor's health condition. 
3. HWiNFO Software
This program is quite helpful since it allows you to change the cabinet and CPU fans quickly. Furthermore, it keeps track of the core clock, GP when the CPU is in use, motherboard, HD temperature, CPU package power, REM use, and RAM utilization. In addition, it contains data on the various senses as well as frequency. Finally, in a CSV file, it saves the whole report of the values.
4. EasyTune 5 Software
This program enables system fine-tuning to improve system management using recorded voltages and memory timings. It comes with a controller that changes the CPU fan's speed without BIOS. It has a monitoring system for checking the health of your computer. It comes with an overclocking mechanism that improves the machine's overall performance. It enables the user to switch between several wards, such as easy in advance. It is compatible with all versions of Windows. It allows multiple CPU fan speeds to be configured based on different temperatures and RPMs.
5. Corsair Link Software
This free program also includes a CPU fan speed monitor. It also displays the DRAM's current temperature, voltage, and frequency. May use to set the temperature of the GPU and CPU and the fan speed management for fluctuation. It is quite effective in regulating fan performance. It has an oriental-style game interface. It works with the most recent hardware and is compatible with all Windows operating systems, including Windows 10.
6. NoteBook FanControl Software
Notebook fan control is a piece of software that may utilize. Gives you control over your computer, is functional, and has a user-friendly interface. It appears in the taskbar after installation. When it comes to launching for the first time, newcomers will find the user interface quite helpful.
It displays the CPU temperature as well as the current fine speed measurement. Enables the fan speed controller to be controlled by a simple slider in the main menu's center section. When the computer starts up, it immediately begins the software. It's simple to use and compatible with Windows 7, 8, and 10.
7. HW Monitor Software
Software that can trust to control system fan speeds. It can maintain at least three cabinet fans. Its user interface keeps track of the CPU and cabinet fans' maximum and minimum fan speeds. In addition, it contains the temperature and keeps track of the motherboard voltage, processor temperature, process voltage, system power consumption, and HDD and GPU temperatures.
The gathered data may be stored as a TXT file. It's fundamental and straightforward to use, and it's available in both 32 and 64-bit versions. In addition, it is compatible with various operating systems as well as the most recent versions of Windows 10.
Use External Fan Controllers
You might want to think about using an external fan controller. You can monitor the temperature of your PC and manually regulate the CPU fan speed without BIOS with a fan controller. You can assist your system reach the right mix of quiet and calm by using one of the most OK pc fan controllers. However, before you go out and buy a PC fan controller, think about the aesthetics, pin support, controls, and channels.
Conclusion
High RPMs are caused by high temperatures or a malfunctioning heat sensor. When you use specific programs, the processor will heat up, which will cause the fans to spin faster. Also, higher RPMs are louder, while low RPMs might overheat your CPU. Make sure you're utilizing a pc fan controller like SpeedFan to keep your processor's temperature within the safe range. When your CPU performs heavy lifting, these methods will let you manage the fans on it for better cooling. So, you may use SpeedFan or manual fan controls to change CPU fan speed without BIO.