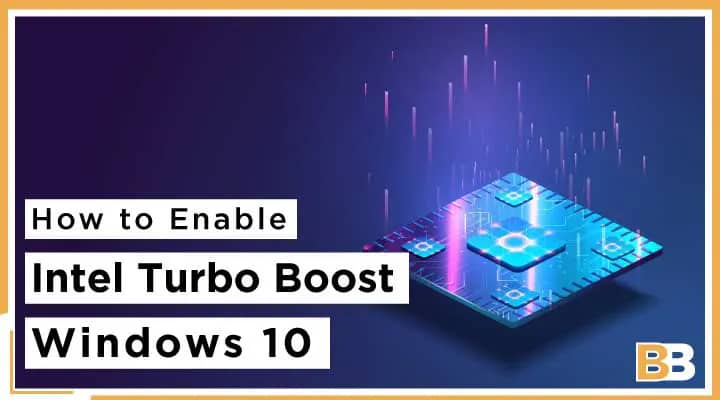 Intel Turbo Boost Technology allows a computer's CPU to run at a higher frequency than the specified frequency.
Although the boost allows the core to run faster, the CPU should remain within the Thermal Design Power's power, voltage, and performance constraints (TDP).
The outcome of this activity – the performance of both single and multi-threaded applications is enhanced by manifolds.
How to Enable Intel Turbo Boost Windows 10
Fortunately, Intel Turbo Boost comes automatically enabled on all supported processors by default. However, it can still be disabled/enabled by peaking into the BIOS configuration. 
There is no other way of disabling/enabling Intel Turbo Boost. Therefore, before we start with our procedure, we would recommend our readers keep Intel Turbo Boost helped at all times.
Access the BIOS configuration through the System utility screen. Now click on "System Configuration."
From here, you need to go to "BIOS/Platform Configuration (RBSU)."
Click on "Performance Options" then on "Intel Turbo Boost Technology."
Here you'll be given two options to choose from, Either enable or disable Intel Turbo Boost Technology.
After you've made your choice, press the F10 key from your keyboard to save your changes.
What is Intel Turbo Boost?
Intel's Turbo Boost technology aims to give you a faster and better computing experience by providing extensive support to your PC's processor. Usually, your processor runs at its default marked frequency. 
However, with the application of Intel Turbo Boost, your processor's core would run at a relatively improved frequency. 
This results in faster computing and much better graphics, but to a limited extent.
This improved processing comes at a cost. Intel's Turbo Boost technology has a requirement. Unless your computer system meets this requirement, expect your CPU to run at its marked frequency. 
For Intel Turbo to run freely, your system's processor should be operating in the specified conditions of TDP (Thermal Design Power).
May You Like: How to Unlock Intel CPU
Intel Turbo Boost v2.0
Intel Turbo Boost Technology 2.01 automatically boosts CPU and graphics performance during peak loads. 
In addition, it allows processor cores to run faster than the rated operating frequency.
Intel Turbo Boost v3.0
it allows one or more cores to run at a greater frequency than the rest of the processor. It also assigns apps to specific 
Cores automatically.
Intel Turbo Boost v3.0 has an option that determines whether TBMT should prioritize demanding tasks across all cores in the core list.
Suppose the challenging task is distributed over multiple high-performance (diverse) cores. The highest-performance Cores are listed first, followed by the lowest-performance Cores. 
Users should use varied Cores caused by adding assorted Cores to get the most out of Intel Turbo Boost Max Technology.
Intel Turbo Boost Max Technology is currently only accessible in a few Intel processors, and when enabled,
we'll see how to enable Intel Turbo Boost Technology 3.0 in this post. It is a technology that boosts the performance of your computer.
the following versions of Windows 10 OS:
Windows10 x 64 – RS3 – Edition
Windows10 x 64 – RS4 – Edition
May You Like: How to Overclock Intel Non-K CPU
Do You Need Intel Turbo Boost?
Intel's Turbo Boost tech is quite helpful since it helps gamers, developers, designers to push their computer system's processing power to its limits. 
The best portion is that you don't have to worry about overheating or turning it on and off with slightly more room for processing.
You'll only find Intel Turbo Boost assisting you in your computing needs. The bottom line is that there are only benefits and no drawbacks.
Conclusion
We all can use some Turbo Boost whenever we're short of CPU power. Intel takes care of that without having you worry about buying additional supportive hardware. 
Rest assured, our guide is all you would need to learn how to enable/disable Intel Turbo Boost on your Windows 10 PC.
There is no shortage of what Intel can do when we need a little extra horsepower from our CPUs. They offer an easy way of boosting performance without worrying about buying additional supportive hardware on top. 
It also makes things simple by telling us how to handle enabling/disabling this feature through just one click on their website.