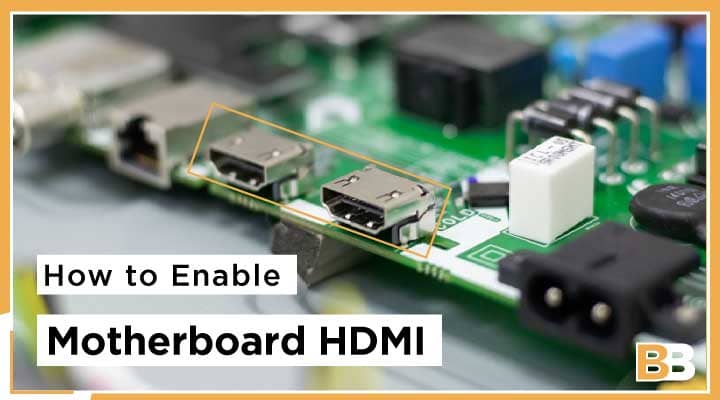 If you have the graphics card built in the PCIe slots, even if the graphics cards have small ports, several motherboards permanently disable the HDMI motherboard. But we'll need some manual motherboard inspection to affirm its support for dedicated graphics. These steps allow enabling motherboard HDMI. It doesn't interfere if you choose to control your motherboard's HDMI port for your primary or supplementary Monitor. The procedure is very identical.
May You Like: How to Choose a Motherboard
There are 4 Significant Necessary Steps "How to Enable Motherboard HDMI"
These are four basics steps to enable motherboard HDMI when the use of motherboard HDMI is warranted. 
Check for Integrated Graphics in Your CPU
Enable Integrated Graphic in BIOS
Connect to new Monitor
Update Latest Integrated Graphics Driver (if necessary)
Check for Integrated Graphics in Your CPU
1. Check for Integrated Graphics in Your CPU:
To enable motherboard HDMI. You should visit the manufacturer's website to find the details there if you already determine the right CPU model which you have in your device. To check the graphic card in window 10, you should follow these steps:
Go to start 
Open setting (icon above the power button)
Select "system."
Check to "About" ( on the left side of the system)
You can see the processor "model name" in "device specification."
If you not have an Intel processor or not follow these steps, then;
It would help if you moved to the second option.
Do a Google search by entering the brand and model of the processor, 
Go to the official website of the manufacturer.
Review the "Processor Graphics" part of the specs.

Work with the old version of windows.
With the old version of the window, you should follow the following steps to check out the graphics card during the enable motherboard HDMI.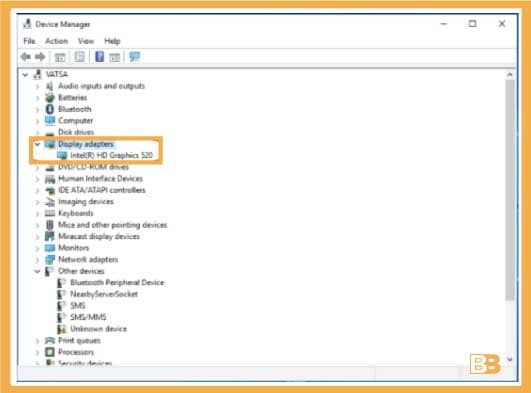 Go to start.
Type device manager and go to open it.
Go to the "Display adaptors" section.
Now you can check the "integrated graphic card" or dedicated graphic card.
If you've had a specific graphics card, it is most likely that your motherboard has mistakenly disabled the onboard graphics. For this, the next move will assist you.
2. Enable Integrated Graphic in BIOS
You will need to allow it via the BIOS to identify that your CPU has onboard graphics during the enable motherboard HDMI. Some manufacturers of motherboards have development and operations to allow both dedicated and onboard graphics around the same period.
If you don't know how to access and find your BIOS, here's a general guide on how to open it and where to search for it;
For this, you must first turn your computer off. Save all of the vital information and shut down the system.
Once again, it would help if you turned it on. As usual, before your machine boots up, there will be a brief POST screen. You have to mash the button at that moment, allowing you to access the BIOS settings, which are typically written on the computer. F1, F2, F8, F12, Delete, and Escape are the most common buttons.
You can verify the exact key in your motherboard's user manual or on the motherboard manufacturer's page.
Next is important to find out the integrated graphics settings while you are on the BIOS. If you are a little bit confused about what you are doing, be careful not to modify anything else as it will destroy your computer, but feel free to search through the various menus.
One of the menus helps you to locate the integrated graphics settings conveniently. If not, check for 'Advanced settings' and look for 'Graphics settings' or the like.
Trigger the iGPU, Multi-Monitor, or Integrated Graphics once you have found it. If the setting is described, make sure that it specifies that enabling the environment enables you to use both built-in and discrete graphics for multiple displays.
Save the settings when you are finished and close the BIOS. It will reboot your computer as usual.
3. Connect to new Monitor 
During the enable motherboard HDMI, you check if your CPU has integrated graphics, and if it is allowed, the next essential step is to use the HDMI port. To do that, you will need an HDMI to HDMI cable. If no HDMI port on your Monitor present, using an adapter is also a solution.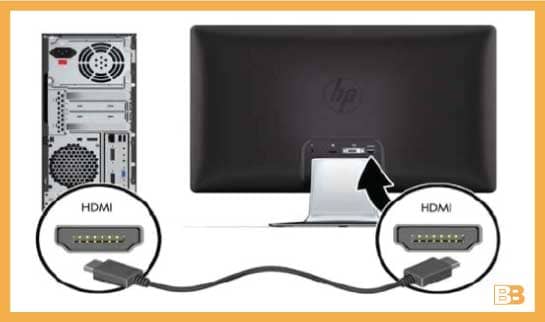 Here are the following steps to connect your Monitor to your enabled motherboard HDMI.
Attach the HDMI cable to your Monitor.
If you are using two monitors, plug the primary Monitor into the graphics card. Graphics card ports are usually horizontal and are located on your computer case's rear bottom part.
Plug the second display into the HDMI port on your motherboard. The motherboard is vertically mounted, unlike the graphics card.
Just like the graphics card, all motherboard ports are located on the rear side of the computer. In all regular computers, they usually sit above the graphics card ports.
Turn on the computer and enjoy the configuration of your multi-monitor.
You do need to upgrade your integrated graphics card drivers, as your display is now working well.
4. Update Latest Integrated Graphics Driver
Update the latest integrated graphic cards is very easy. You don't need to download any software online. This step will be necessary if your second Monitor doesn't be detected due to some graphic card problem. Following steps for update the graphic card: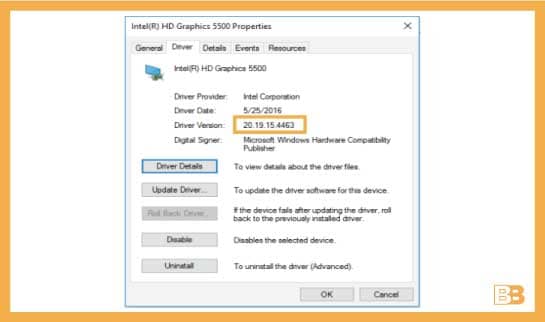 Go to the start icon.
Open the "device manager" in the computer window and find it in the control panel. 
Go to the "Display Adapter."
Find out the integrated GPU.
If it is not seen here, it can be found as an Unidentified Device under the "Other Devices" section.
Download the new driver from your CPU manufacturer's download website and let Windows check for the right driver automatically.
Please restart your computer and then wait until it detects the secondary display.
If all these steps have been completed, you're pretty good to go. You can find more info about the HDMI motherboard below.
The Influence on Performance of Dedicated and Integrated Graphics
For the enable motherboard HDMI it's a fantastic idea to use your HDMI motherboard port if you don't have any free ports on your dedicated graphics card. As compared to using the graphics card on all displays, you can wonder about the hit on the results you would expect from this approach.
An integrated graphics solution combines power and memory with the Central Processing Unit (GPU) of the machine to view information on the computer, imposes a burden on the CPU and system memory, creating high latency in the transmission of APIC Timer interrupts.
In the form of VRAM (video RAM, or video random access memory), discrete graphics cards often come with their memory, which allows the dedicated GPU easy access to specific image data. In contrast, embedded graphics do not have a reliable memory collection to extract image data from them but instead use the memory of the device to extract image data.
It would help if you easily unplugged the secondary display while playing a game and get the best FPS possible. Your onboard graphics can reach sleep mode. Remember to plug the Monitor back in until you are done with your intense gaming session.
Benefits of Using Motherboard HDMI
The best benefit of using the HDMI port on the motherboard is the prospect of linking several displays. You should connect the new Monitor to the motherboard if you don't have a second HDMI port on your graphics card or if both of your ports are complete.
There are some advantages of keeping several displays connected. It will speed up your workflow, improve performance, allow quicker multitasking, and so much more. Since most individuals work from home because of the current pandemic, optimizing your productivity would allow you more opportunities to enjoy and reconnect with your families.
You may still want to plug in the TV for some kickback gaming with your joystick or to watch YouTube, even if you have a three monitor setup and use all three HDMI ports on your graphics card. If you are a player, it is a fantastic idea to have a second display to track hardware or even to have a wiki available. 
In the face of constant developments in modern games and digital technologies, graphics cards will become outdated over time. In comparison, a single graphics card would not stand up, and two cards will allow for newer 3-D applications.
The second Monitor will speed up this phase if you are playing Cyberpunk 2077 and you are continuously using your phone to learn about the game, given that due to RAM's use, you can afford the slight performance effects. You will have more VRAM to work with, which is particularly important now that there are high-resolution textures in many games.
Drawbacks of Using Motherboard HDMI
In contrast to the use of dedicated graphics for both monitors, the main disadvantage is that you will not play multi-monitor games. On AMD, you will sacrifice the Eyefinity technology that alone has some advantages.
A person who is on a budget does not use modern 3-D software and does not edit images. It might not be the right option. You must have or buy a motherboard that allows several graphics cards, in addition to having a second graphics card, as well as a power supply that can power two cards.
Frequently Asked Questions
How do I activate the HDMI port onboard?
The onboard HDMI graphics performance of the CPU was likely disabled. To access the Bios setup and search the 'GPU onboard graphics multi-monitor setting under the Advanced/System Agent. Move to Configuration/Graphics Configuration menu, tap/hold the Delete key or F8 key. If required, allow this BIOS configuration.
Does the HDMI motherboard work?
The motherboard has been designed to support integrated graphics CPUs and be used without an external graphics card. However, the HDMI port won't work if you use it with a CPU with integrated graphics.
Does it help dual displays on my motherboard?
Usually, the motherboard is located in the lower part of the unit, but it varies on the type. Check to see if it has different VGA outputs (Video Graphics Array) or HDMI cables until you find your computer's motherboard. If so, then it can support the display of a dual monitor.
How can I know if there is an HDMI on my PC?
Only look up your laptop model on your search engine and see the details, to be sure. "The HDMI port will be mentioned as "input" or "output" under "I/O Ports." To get HDMI feedback, you need to buy an HDMI capture card like the "High Definition Video Recorder" from Model Selector.
Why isn't my HDMI adapter functioning?
Make sure that you can connect the mobile device to the MHL-labeled HDMI input on the TV. Please make sure that MHL input is enabled on the TV. Disconnect and reset all of the devices connected to the TV. Make sure that the TV has the latest software for the system.
Conclusion
Maximum of the time, if you have a CPU with a GPU, all you have to do is integrate BIOS graphics. Implementing the HDMI port on the motherboard is not complicated. If it does not operate right away, the problem is most likely triggered by the old driver. If you note all of the steps above, upgrading the optimized graphics driver is fuss-free and straightforward.
While you can set up several monitors on both your GPU and motherboard using HMDI ports, especially when you switch windows between your monitors, you can experience some lag and drop in output.
There are some advantages and drawbacks of using your graphics card with your primary display and your motherboard HDMI to drive the second panel. You're going to have less RAM, but you're going to allow the graphics card to function better. You will also have a second computer, anyway, which you will use for many items.